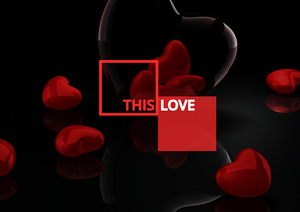 This Love
is a soap bubble derived from the long-running serial drama
These Days
. A five-part series of five-minute webisodes, it focusses on the complex teenage romance between bisexual, cisgender character Carrie Donnelly, and her lesbian, preoperative transgender girlfriend Frankie Wells.
The series alternates between them as they share their innermost thoughts and feeling about themselves, each other and their relationship on a webcam vlog, with the 'viewers' being the viewers themselves. Carrie does a vlog in Webisode 1 and 3, Frankie in 2 and 4 and both appear in Episode 5. No other characters from 'These Days' appear. The series was unannounced and is published sporadically. As of 18 July 2017, one episode has been published.
As with These Days, the project is produced by Impossible Princess Productions and published on the creative writing forum Writers Express. It is set in and around two fictitious Leicester suburbs: Newben and Linford. The title card is identical to the main show, the only change being the name of the project.
Creator Noxy has confirmed that the series will not be put forward for any WRIXAS.
For an in-depth guide to These Days, check out the official wiki
Theme Tune
The theme tune to 'This Love' is the same as 'These Days' - 'Distance' by Schiller ft. Kim Sanders.
Cast
| Character | Actor | Duration (by episodes) |
| --- | --- | --- |
| Carrie Donnelly | Karen Gillan | 1, 3, 5 |
| Frankie Wells | Eva McGillivray | 2, 4, 5 |